Real Madrid head coach Zinedine Zidane has made clear that his team have not received any preferential treatment from referees in their first two games back in LaLiga Santander.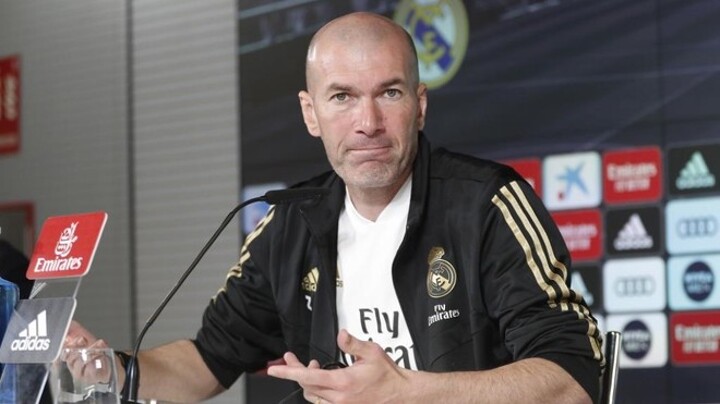 This comes after Gerard Pique intimated that Real Madrid had benefitted from refereeing decisions.
"What interests me is tomorrow's game," Zidane said during Saturday's pre-match press conference.
"I have my opinion, but I'm not going to say.
"Each person will think what they think.
"All I have to say is that we're thinking about this upcoming game, because the truth is that it's all that matters to us right now.
"What we want to do is play on the pitch.
"I am the way I am, it's my way of being.
"I'm like that, I take advantage of everything that affects me in life.
"I'm lucky enough to be able to do what I like and not everyone can say the same.
"I can also complain in life like many people, but as a coach, it will not change anything by talking about one bad thing.
"I am very positive in my life. Whatever happens is not the most important if you give your all.
"The referees are not favouring us. And that is it."
Los Blancos will come up against Martin Odegaard on Sunday, with the Real Sociedad midfielder set to have another chance to impress his parent club.
"He's doing really well for that club," Zidane said of the Norwegian.
"He is our player contractually, but we have to remember he plays for another club.
"We'll have to wait to see what happens with him for next year.
"The good thing is that Real Sociedad have been able to enjoy him this year."
Karim Benzema scored arguably the goal of the season with his second strike against Valencia on Thursday, but Zidane hasn't seen much of a change in his compatriot over the last few years.
"No, I don't think he's changed a lot," Zidane explained.
"He has more experience, of course, after being here for so long, but he is the same player in my view.
"He looks after himself a lot and he has a lot of ambition.
"He loves football and loves to link up with his teammates with the ball.
"They say that whoever is Real Madrid's No.9 has to score, but I don't necessarily share that view.
"A No.9 who only scores without getting involved in the game doesn't interest me so much.
"Benzema scores and gets involved in the whole game."
Marco Asensio was able to come off the bench against Valencia to play his first minutes in 11 months and it took him just 30 seconds to get on the scoreline, while he then went on to assist Benzema's second goal, but the French coach wants to go easy with the Mallorca-born forward.
"I won't say anything about the starting line-up," Zidane stated.
"The other day he came on, but you have to take it one step at a time.
"We have time, we don't have to think that he has to play every game.
"After a serious injury you have to take it step by step, us and him, and calmly."
Reinier Jesus has been training with the Real Madrid first-team squad, but Zidane revealed that he has picked up an injury.
"He looks good," the coach commented.
"He's a player for the future, he's very young, he's just arrived, he's with us, but unfortunately he hurt his leg the day before yesterday and we don't know exactly what he has.
"But in these last few days with us, he has demonstrated that he has quality and a future [at the club]."